Dell Wireless Keyboard and Mouse Combo Set KM714 - Black
See Details
Key Features
Interface:2.4 GHz
Wireless Receiver: USB wireless receiver
Input Device: Keyboard
Hot Keys Function: Multimedia, Optical media eject, Windows 8
Features: Scissor Key Technology, battery LED indicator
Pointing Device: Mouse - laser
Delivery

See Delivery Timelines

here

| | | | |
| --- | --- | --- | --- |
| Home Delivery | Dhaka | Chittagong & Sylhet | Other |
| Daraz Express | 1-2 | 2-4 | 2-6 |
| Regular | 3-6 | 4-8 | 4-10 |
| Bulky | 3-6 | 4-8 | 4-10 |
| Global Seller | 10-15 | 15-20 | 15-30 |

| | | | |
| --- | --- | --- | --- |
| Pick Up Station | Dhaka | Chittagong & Sylhet | Other |
| Daraz Express | 1-2 | 2-4 | 2-6 |
| Regular | 3-5 | 4-7 | 4-10 |
| Global Seller | 10-15 | 15-20 | 15-30 |

Note: Please note that these are business days and delivery times are as provided by our carriers and are estimates only. Delays may occur during peak periods, and due to factors outside the carriers control.

Delivery Within: 3 - 10 business days. Conditions Apply

Warranty

See more details about warranty

here

6 Months Warranty
Pay cash on delivery
With Pay on Delivery, when your order arrives at your doorstep, you can physically review it and then pay cash.

Be sure to have the exact amount for payment as our delivery men might not carry sufficient change or cash.
7 days free return under certain conditions
See our Return Policy & Return Times
here
| | |
| --- | --- |
| Return Reason | Eligible Products |
| Wrong item | All items |
| Changed Mind | Fashion, Mobile Phones, Electronics, Computing |
| Damaged item | Fashion, Mobile Phones, Electronics, Computing, Books, Bulky items |
Bulky Items:
Kindly note that the bulky / heavy items cannot be returned, if you change your mind. Item can only be returned if a wrong item was delivered or item is damaged.
Bulky items include:
TV, AC, Fridge & Freezers, Washing Machine, Desktop, Home theatre, Fitness machines, Gas Cooker & Oven
Unstitched/Customized products:
RETURNS ARE NOT APPLICABLE
Books & Stationery:
RETURNS ARE NOT APPLICABLE FOR THIS CATEGORY
About Wireless Keyboard and Mouse Combo Set KM714
Attractive design Give your work space a modern appearance with a stylish wireless keyboard and mouse. A slim profile with silver accents perfectly complements your PC or tablet, while the wireless design creates a clean look. Great for Windows the KM714 is compatible with Windows® 7/8/8.1/10. Easily navigate Windows 8/10 tiles with a mouse wheel that can scroll up, down, left or right. Use the mouse's side buttons to access the Windows 8 Charms bar for navigational controls or to switch between applications (Windows 8 Only).Comfort and precision.
The full-size keyboard with responsive chiclet keys makes typing comfortable, while multimedia shortcut keys provide quick access to audio and video functions. Point and click with precision using the fast-tracking, full-size laser mouse. Extended battery life .Confidently work for long periods with a highly efficient keyboard and mouse featuring long battery life.Go wireless keep your work space tidy and cable-free with a wireless combo. The compact USB nano receiver allows unobstructed access to your remaining USB ports for easy connection to other devices.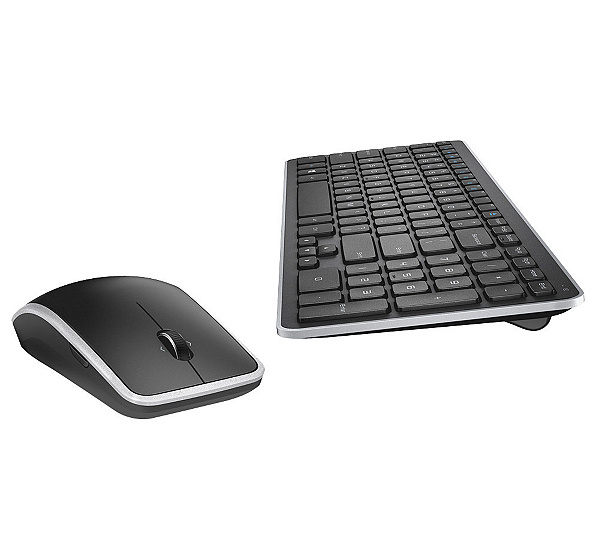 The KM714 Wireless Keyboard and mouse Combo from Dell TM delivers high-quality, wireless performance in a modern design that allows for a clutter-free desktop experience. It is designed with both form and function, this slim-line designed keyboard and mouse combo looks great on your desktop, freeing up your work space from wires. Moreover, the Scissor Chiclet keys help to deliver improved typing efficiency and a quality feel, so you can get more done, quickly, while the laser mouse has Windows TM 8 gesture controls that also help improve efficiency. The Logitech Unifying technology with a single Nano dongle for both devices, which helps you keep more USB ports open for other devices and accessories. This product has been tested and validated on Dell systems. It is supported by Dell Technical Support when used with a Dell system.
Key Features
Interface:2.4 GHz
Wireless Receiver: USB wireless receiver
Input Device: Keyboard
Hot Keys Function: Multimedia, Optical media eject, Windows 8
Features: Scissor Key Technology, battery LED indicator
Pointing Device: Mouse - laser
Movement Detection Technology: Laser
Product warranty
6 Months Warranty
5 stars

4 stars

3 stars

2 stars

1 star
7 Days Return & Refund
If your product is defective / damaged or if you receive an incorrect / incomplete product, then call our customer service 16492 to log a return request within 7 days of delivery.
This product is not eligible for a refund if the product is "no longer needed". "No longer needed" means that you no longer have a use for the product / you have changed your mind about the purchase / the size of a fashion product does not fit / you do not like the product after opening the package.
Conditions for Returns
The product must be unused, unworn, unwashed and without any flaws. Fashion products can be tried on to see if they fit and will still be considered unworn.
The product must include the original tags, user manual, warranty cards, freebies and accessories.
The product must be returned in the original and undamaged manufacturer packaging / box. If the product was delivered in a second layer of Daraz packaging, it must be returned in the same condition with return shipping label attached. Do not put tape or stickers on the manufacturer box.
If a product is returned to us in an inadequate condition, we reserve the right to send it back to you.
To learn more about how to return your product click here.