Samsung 78" UHD 4K Curved Smart TV UA78KU6500K Series 6 - Black
See Details
Key Features
Screen Size:78 inch
Resolution: 3840x2160
Index Images:1600
Connector:HDMI, AV, Component
HDMI:3
USB:2
Delivery

See Delivery Timelines

here

| | | | |
| --- | --- | --- | --- |
| Home Delivery | Dhaka | Chittagong & Sylhet | Other |
| Daraz Express | 1-2 | 2-4 | 2-6 |
| Regular | 3-6 | 4-8 | 4-10 |
| Bulky | 3-6 | 4-8 | 4-10 |
| Global Seller | 10-15 | 15-20 | 15-30 |

| | | | |
| --- | --- | --- | --- |
| Pick Up Station | Dhaka | Chittagong & Sylhet | Other |
| Daraz Express | 1-2 | 2-4 | 2-6 |
| Regular | 3-5 | 4-7 | 4-10 |
| Global Seller | 10-15 | 15-20 | 15-30 |

Note: Please note that these are business days and delivery times are as provided by our carriers and are estimates only. Delays may occur during peak periods, and due to factors outside the carriers control.

Delivery Within: 3 - 10 business days. Conditions Apply

Warranty

See more details about warranty

here

5 years service warranty without parts
Pay cash on delivery
With Pay on Delivery, when your order arrives at your doorstep, you can physically review it and then pay cash.

Be sure to have the exact amount for payment as our delivery men might not carry sufficient change or cash.
7 days free return under certain conditions
See our Return Policy & Return Times
here
| | |
| --- | --- |
| Return Reason | Eligible Products |
| Wrong item | All items |
| Changed Mind | Fashion, Mobile Phones, Electronics, Computing |
| Damaged item | Fashion, Mobile Phones, Electronics, Computing, Books, Bulky items |
Bulky Items:
Kindly note that the bulky / heavy items cannot be returned, if you change your mind. Item can only be returned if a wrong item was delivered or item is damaged.
Bulky items include:
TV, AC, Fridge & Freezers, Washing Machine, Desktop, Home theatre, Fitness machines, Gas Cooker & Oven
Ishimaya Store Products:
RETURNS ARE NOT APPLICABLE
About Samsung 78" UHD 4K Curved Smart TV UA78KU6500K Series 6
Active Crystal colour
Are you ready to discover deeper image detail? Samsung UHD TV with its Active Crystal Colour and HDR abilities is image optimised for your high resolution viewing pleasure. With a broader colour gamut, on-screen images come alive. Visually spectacular light and dark contrast brings out the details you've been missing out on up until now.
Samsung's advanced colour technology lets you experience an abundance of colour expression exceeding that of other UHD TVs. The UHD TV's colour gamut is increased by 20% for stunningly natural and lifelike images that come to life on the screen and excite your eyes all while consuming less power.
HDR Premium

You may not have realized how much you were missing in your day to day viewing before HDR brought the light out of the shadows. Expect images with higher brightness as a whole new world of detail is revealed and brought to life. All images come closer to reality thanks to HDR technology.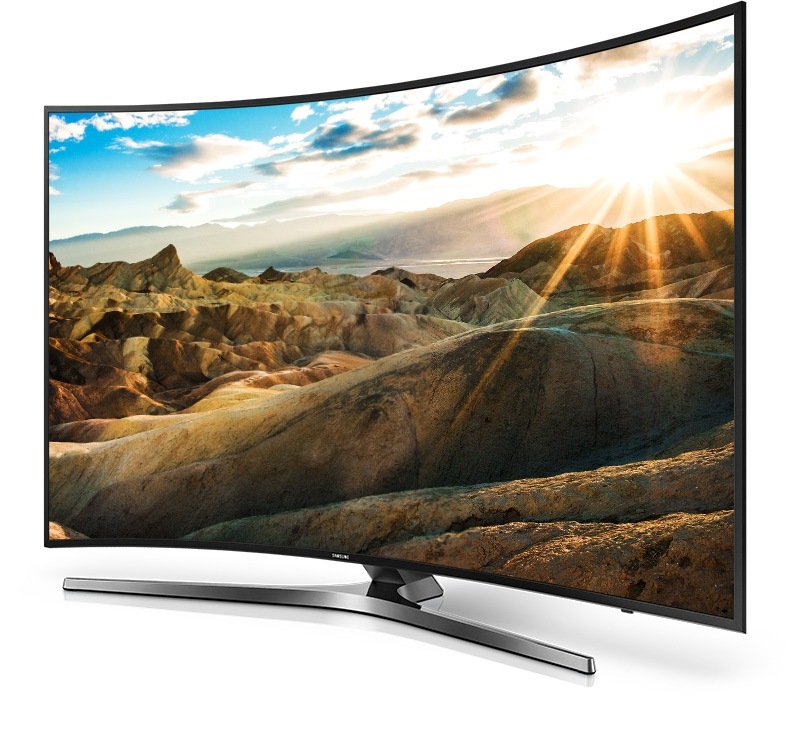 UHD Upscaling
The Samsung UHD TV automatically optimises general content so you'll always enjoy a UHD-level viewing experience no matter the original quality. By using a 4-step upscaling process, details are enhanced as frame noise is eliminated. The resulting picture quality is beautifully clear and generally better all-round.
UHD Dimming
The Samsung UHD TV takes full advantage of its processing power to exercise total software control of picture enhancement. The screen itself is divided up into hundreds of zones that are each individually analysed and adjusted to optimise colour, brightness and sharpness. The result is more accurate and sharper images.
Key Features
Screen Size:78 inch
Resolution: 3840x2160
Index Images:1600
Connector:HDMI, AV, Component
HDMI:3
USB:2
HDR Ultra Smart design with ultra-slim curved screen
Integration of advanced technology
Active Crystals Color
UHD Dimming
UHD Upscaling
Auto Depth Enhancer
1600 image index
Electric power consumption 300W
Power Supply: AC220-240V, 50/60Hz
Display Size (inches)
78.0
Product warranty
5 years service warranty without parts

Display Resolution
3840x2160
5 stars

4 stars

3 stars

2 stars

1 star
7 Days Replacement Only
If your product is defective / damaged or if you receive an incorrect / incomplete product, then call our customer service on 16492 to log a replacement request within 7 days of delivery. This item is eligible for a free replacement, provided the exact item is available with the same seller. If the same item is not available from the same seller, a refund will be issued.
This product is not eligible for a replacement if the product is "no longer needed". "No longer needed" means that you no longer have a use for the product / you have changed your mind about the purchase / the size of a fashion product does not fit / you do not like the product after opening the package.
Conditions for Returns
The product must be unused, unworn, unwashed and without any flaws. Fashion products can be tried on to see if they fit and will still be considered unworn.
The product must include the original tags, user manual, warranty cards, freebies and accessories.
The product must be returned in the original and undamaged manufacturer packaging / box. If the product was delivered in a second layer of Daraz packaging, it must be returned in the same condition with return shipping label attached. Do not put tape or stickers on the manufacturer box.
Before returning a mobile / tablet, the device should be formatted and screen lock should be disabled. The iCloud account should be unlocked for Apple devices.
If a product is returned to us in an inadequate condition, we reserve the right to send it back to you.
To learn more about how to return your product click here.