Samsung Clear View Cover Case for Samsung Galaxy S6 Edge - Gold
See Details
Key Features
View the time, battery life, incoming calls and messages without opening your case
Provides full screen protection without additional bulk
Official Samsung accessory made for the Galaxy S6 Edge
Easily access all ports, controls & connectors
Manufactured to provide an exact fit for your Galaxy S6 edge only
Standout with a smooth and translucent finish
Seller Score:

3.7 / 5

Selling on Daraz::

2 years

---

Delivery

See Delivery Timelines

here

| | | | |
| --- | --- | --- | --- |
| Home Delivery | Dhaka | Chittagong & Sylhet | Other |
| Daraz Express | 1-2 | 2-3 | 2-3 |
| Regular | 3-4 | 4-5 | 4-5 |
| Heavy | 3-4 | 5-6 | 5-6 |
| Global Seller | 10-15 | 15-20 | 15-30 |

| | | | |
| --- | --- | --- | --- |
| Pick Up Station | Dhaka | Chittagong & Sylhet | Other |
| Daraz Express | 3-4 | 3-4 | 3-4 |
| Regular | 5-6 | 5-6 | 5-6 |
| Heavy | 6-7 | 6-7 | 6-7 |
| Global Seller | 10-15 | 15-20 | 15-30 |

Note: Please note that these are business days and delivery times are as provided by our carriers and are estimates only. Delays may occur during peak periods, and due to factors outside the carriers control.

Delivery until: 04-Jun-18
Pay cash on delivery
With Pay on Delivery, when your order arrives at your doorstep, you can physically review it and then pay cash.

Be sure to have the exact amount for payment as our delivery men might not carry sufficient change or cash.
7 days free return under certain conditions
See our Return Policy & Return Times
here
| | |
| --- | --- |
| Return Reason | Eligible Products |
| Wrong item | All items |
| Changed Mind | Fashion, Mobile Phones, Electronics, Computing |
| Damaged item | Fashion, Mobile Phones, Electronics, Computing, Books, Bulky items |
Bulky Items:
Kindly note that the bulky / heavy items cannot be returned, if you change your mind. Item can only be returned if a wrong item was delivered or item is damaged.
Bulky items include:
TV, AC, Fridge & Freezers, Washing Machine, Desktop, Home theatre, Fitness machines, Gas Cooker & Oven
Unstitched/Customized products:
RETURNS ARE NOT APPLICABLE
Books & Stationery:
RETURNS ARE NOT APPLICABLE FOR THIS CATEGORY
Clear View case for the Samsung Galaxy S6 Edge features a semi-transparent front cover that allows you to quickly and easily view incoming calls, messages, battery life as well as the time. This is a fantastic way to keep up to date with your notifications without having to constantly open and close your flip case.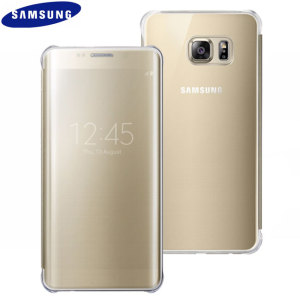 Protect the front of your Samsung Galaxy S6 Edge from scratches, scrapes and front-on impacts with the official Clear View cover.
This case attaches onto the original back cover of your S6 Edge, clipping on to the back of your device without adding hardly any bulk and then folds over the front when not in use. This means that the most important parts of the phone, the screen, back and sides are protected from harm without the added thickness and weight normally associated with flip cases.
This is an official Samsung product, so is made to the highest standards with the best quality materials. It is designed specifically for use with the Samsung Galaxy S6 Edge, so offers a perfect fit and does not impede the use of any of the functions such as the power and volume buttons, headphone and charging ports, or front and rear cameras.
Perfect Design
The Galaxy S6 Edge Clear View Cover is a perfect fit for the Galaxy S6. Its reflective, translucent finish accentuates the Galaxy S6's smooth metal curves.
Perfect Match
Take the Galaxy S6's stylish glossy look to the next level with the Galaxy S6 Clear View cover. Choose between a range of fashionable hues, including: Black, Gold, Silver and Blue. All are a perfect fit for the Galaxy S6's stunning colors.
Intelligent Display
With the Galaxy S6 Edge Clear View Cover fitted to your Galaxy S6 it gives you a window to see key information on your phone. When closed, a dedicated UX display allows you receive or reject calls, check the time and date and get a range of notifications– without even having to open the cover.
Superior Design Meets Protection
Not only does the Galaxy S6 Edge Clear View Cover look the part, it also offers shock resistance and lasting protection against scratches and splashes. The cover provides a layer of defense not only for the front and back of the Galaxy S6, but also the edges, allowing you to get more out of your device for longer.
Key Features
View the time, battery life, incoming calls and messages without opening your case
Provides full screen protection without additional bulk
Official Samsung accessory made for the Galaxy S6 Edge
Easily access all ports, controls & connectors
Manufactured to provide an exact fit for your Galaxy S6 edge only
Standout with a smooth and translucent finish
Keep protected with a robust yet stylish case
Take control with an intelligent display
Match your style with a choice of premium colors
5 stars

4 stars

3 stars

2 stars

1 star
7 Days Return & Refund
If your product is defective / damaged or if you receive an incorrect / incomplete product, then call our customer service 16492 to log a return request within 7 days of delivery.
This product is not eligible for a refund if the product is "no longer needed". "No longer needed" means that you no longer have a use for the product / you have changed your mind about the purchase / the size of a fashion product does not fit / you do not like the product after opening the package.
Conditions for Returns
The product must be unused, unworn, unwashed and without any flaws. Fashion products can be tried on to see if they fit and will still be considered unworn.
The product must include the original tags, user manual, warranty cards, freebies and accessories.
The product must be returned in the original and undamaged manufacturer packaging / box. If the product was delivered in a second layer of Daraz packaging, it must be returned in the same condition with return shipping label attached. Do not put tape or stickers on the manufacturer box.
If a product is returned to us in an inadequate condition, we reserve the right to send it back to you.
To learn more about how to return your product click here.