Samsung Wireless Charger - Black
See Details
Key Features
Fast Charge Wireless Charging Stand
High-Quality Product
Input Voltage: 5-9V
LED Indicator
Dimensions (WxHxD): 4.4 x 3.4 x 3.3
Seller Score:

4.8 / 5

Selling on Daraz::

1 year

---

Delivery

See Delivery Timelines

here

| | | | |
| --- | --- | --- | --- |
| Home Delivery | Dhaka | Chittagong & Sylhet | Other |
| Daraz Express | 1-2 | 2-3 | 2-3 |
| Regular | 3-4 | 4-5 | 4-5 |
| Heavy | 3-4 | 5-6 | 5-6 |
| Global Seller | 10-15 | 15-20 | 15-30 |

| | | | |
| --- | --- | --- | --- |
| Pick Up Station | Dhaka | Chittagong & Sylhet | Other |
| Daraz Express | 3-4 | 3-4 | 3-4 |
| Regular | 5-6 | 5-6 | 5-6 |
| Heavy | 6-7 | 6-7 | 6-7 |
| Global Seller | 10-15 | 15-20 | 15-30 |

Note: Please note that these are business days and delivery times are as provided by our carriers and are estimates only. Delays may occur during peak periods, and due to factors outside the carriers control.

Delivery until: 30-Aug-18
Pay cash on delivery
With Pay on Delivery, when your order arrives at your doorstep, you can physically review it and then pay cash.

Be sure to have the exact amount for payment as our delivery men might not carry sufficient change or cash.
7 days free return under certain conditions
See our Return Policy & Return Times
here
| | |
| --- | --- |
| Return Reason | Eligible Products |
| Wrong item | All items |
| Changed Mind | Fashion |
| Damaged item | Fashion, Mobile Phones, Electronics, Computing, Books, Bulky items |
Bulky Items:
Kindly note that the bulky / heavy items cannot be returned, if you change your mind. Item can only be returned if a wrong item was delivered or item is damaged.
Bulky items include:
TV, AC, Fridge & Freezers, Washing Machine, Desktop, Home theatre, Fitness machines, Gas Cooker & Oven
Unstitched/Customized products:
RETURNS ARE NOT APPLICABLE
Books & Stationery:
RETURNS ARE NOT APPLICABLE FOR THIS CATEGORY
Samsung Wireless Charger
Take your wireless charging experience to the next level with the Fast Charge Wireless Charging Stand. The new wireless charging stand allows you to charge your compatible Galaxy device up to 1.4x faster than standard wireless charging transmitters*. Using Samsung's Fast Charge technology, the stand can transfer a faster charge to the device when used with the included Fast Charge wall charger. The Fast Charge Wireless Charging Stand is closing the gap in speed between wireless and wired charging! The stand is also backward compatible with any Qi-enabled device so you can charge those devices wirelessly at standard speeds.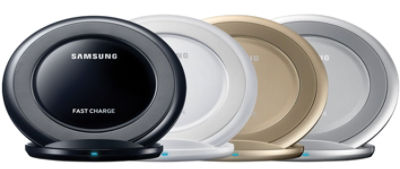 Compatibility

The wireless Fast Charge feature is compatible with Galaxy Note5, Galaxy S6 edge+ and later models of the Galaxy Note and Galaxy S series. Wireless Fast Charge is not compatible with Galaxy S6, Galaxy S6 edge or Galaxy S6 active. Those devices will charge at regular speed. Universal wireless charging support for all Qi-enabled devices. Charging your device wirelessly may require the addition of a wireless charging cover (sold separately).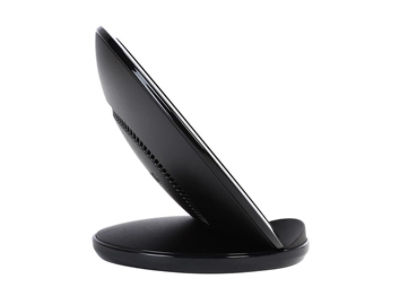 Wireless charging convenience
Say goodbye to tangled wires and lost charging cables. The Samsung Wireless Charging Stand utilizes Qi Inductive Charging Technology that eliminates the need to fumble with charging cables each time you want to charge your device. Perfect for at home or the office, the dedicated charging stand is always at the ready, providing wireless power whenever you set your device on the stand. The stand was designed to allow you to still use your device while charging, propping it up so you can navigate music, review notifications and answer calls without having to interrupt charging.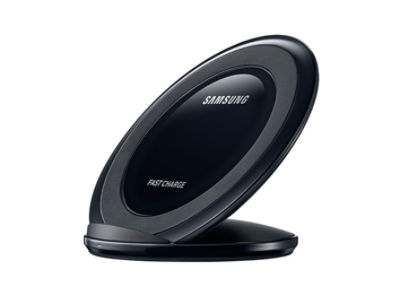 Easy to use
The Samsung Wireless Charging Stand is easy to set up and use. First, connect the charging stand to your device's charging cable and then place your phone on the stand. For optimal performance, your device should be placed in the center of the stand. The built-in LED indicator light will alert you if the device is not properly aligned and when a good charge alignment is acquired. A spare Samsung Fast Charge wall charger is included with the stand. If a non-Samsung or Samsung charger below 2A is used, you may damage the charging stand.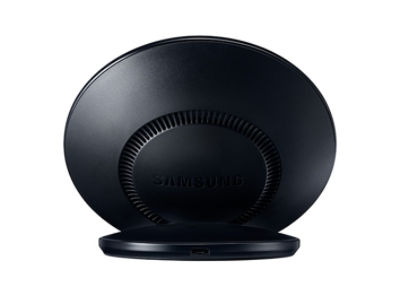 Key Features
Fast Charge Wireless Charging Stand
High-Quality Product
Input Voltage: 5-9V
LED Indicator
Dimensions (WxHxD): 4.4 x 3.4 x 3.3
What's in the box
Wireless Charger - Black
5 stars

4 stars

3 stars

2 stars

1 star
7 Days Return & Refund
If your product is defective / damaged or if you receive an incorrect / incomplete product, then call our customer service 16492 to log a return request within 7 days of delivery.
This product is not eligible for a refund if the product is "no longer needed". "No longer needed" means that you no longer have a use for the product / you have changed your mind about the purchase / the size of a fashion product does not fit / you do not like the product after opening the package.
Conditions for Returns
The product must be unused, unworn, unwashed and without any flaws. Fashion products can be tried on to see if they fit and will still be considered unworn.
The product must include the original tags, user manual, warranty cards, freebies and accessories.
The product must be returned in the original and undamaged manufacturer packaging / box. If the product was delivered in a second layer of Daraz packaging, it must be returned in the same condition with return shipping label attached. Do not put tape or stickers on the manufacturer box.
If a product is returned to us in an inadequate condition, we reserve the right to send it back to you.
To learn more about how to return your product click here.