Tt eSPORTS Isurus Pro Gaming Headset - Black & Red
See Details
Key Features
The Earbud Solution For Gamers
World's First In-Ear Detachable Microphone Headset
Unique Earbud Design
Dual Microphones
Inline 3-Button Remote
Tangle-Free Flat Cable
Seller Score:

3.5 / 5

Selling on Daraz::

2 years

---

Delivery

See Delivery Timelines

here

| | | | |
| --- | --- | --- | --- |
| Home Delivery | Dhaka | Chittagong & Sylhet | Other |
| Daraz Express | 1-2 | 2-3 | 2-3 |
| Regular | 3-4 | 4-5 | 4-5 |
| Heavy | 3-4 | 5-6 | 5-6 |
| Global Seller | 10-15 | 15-20 | 15-30 |

| | | | |
| --- | --- | --- | --- |
| Pick Up Station | Dhaka | Chittagong & Sylhet | Other |
| Daraz Express | 3-4 | 3-4 | 3-4 |
| Regular | 5-6 | 5-6 | 5-6 |
| Heavy | 6-7 | 6-7 | 6-7 |
| Global Seller | 10-15 | 15-20 | 15-30 |

Note: Please note that these are business days and delivery times are as provided by our carriers and are estimates only. Delays may occur during peak periods, and due to factors outside the carriers control.

Delivery until: 11-Jun-18
Pay cash on delivery
With Pay on Delivery, when your order arrives at your doorstep, you can physically review it and then pay cash.

Be sure to have the exact amount for payment as our delivery men might not carry sufficient change or cash.
7 days free return under certain conditions
See our Return Policy & Return Times
here
| | |
| --- | --- |
| Return Reason | Eligible Products |
| Wrong item | All items |
| Changed Mind | Fashion, Mobile Phones, Electronics, Computing |
| Damaged item | Fashion, Mobile Phones, Electronics, Computing, Books, Bulky items |
Bulky Items:
Kindly note that the bulky / heavy items cannot be returned, if you change your mind. Item can only be returned if a wrong item was delivered or item is damaged.
Bulky items include:
TV, AC, Fridge & Freezers, Washing Machine, Desktop, Home theatre, Fitness machines, Gas Cooker & Oven
Unstitched/Customized products:
RETURNS ARE NOT APPLICABLE
Books & Stationery:
RETURNS ARE NOT APPLICABLE FOR THIS CATEGORY
Feature
| | |
| --- | --- |
| | THE EARBUD SOLUTION FOR GAMERSAre you always ready to challenge your opponent? Are you a pro-gamer that enjoys gaming to the fullest? Do you feel tired and uncomfortable after a long practice session? Are you looking for a decent headphone that sits off the ear or lightly on the ear that won't be hot and sweaty? Do you want a smaller headset that has all of the features of an ordinary gaming headset? We have listened to many pro gamers and accumulated all their feedback for the past three years and now we are here to provide them what they really want! The ISURUS PRO, is designed for professional gamers for any gaming situation! The Omnidirectional microphone allows gamer to place the microphone wherever they need it and our new drivers deliver an excellent audio experience. The ISURUS PRO allows gamers who prefer earbuds instead of traditional gaming headphones a more comfortable way to play! |
| | |
| --- | --- |
| WORLD'S FIRST IN-EAR DETACHABLE MICROPHONE HEADSETLightweight stainless steel detachable microphone design that offers a clearer voice communication and enhances phone call control by adjusting the microphone to ensure you have a perfect fit. You can use the microphone while in gameplay with friends or remove the microphone for music enjoyment! | |
| | |
| --- | --- |
| | UNIQUE EARBUD DESIGNThe ISURUS PRO features a honeycomb cutout brushed shell design with the Tt eSPORTS's battle dragon logo. This design is inspired by our LEVEL 10 line that makes the earbuds standout at any gaming event! |
| | |
| --- | --- |
| | DUAL MICROPHONESConsist a dual microphones design where you can choose either to speak through the inline microphone or via the detachable microphone. If you do not want to use the detachable microphone, you are always able to speak via the in-line microphone! |
QUALITY COMPONENTSISURUS PRO offers you the best sound quality and is perfect for all gamers. You can listen to music, watch movies or use it with your phone to communicate with friends. It is the perfect headset for you with premium audio technology and an exception design!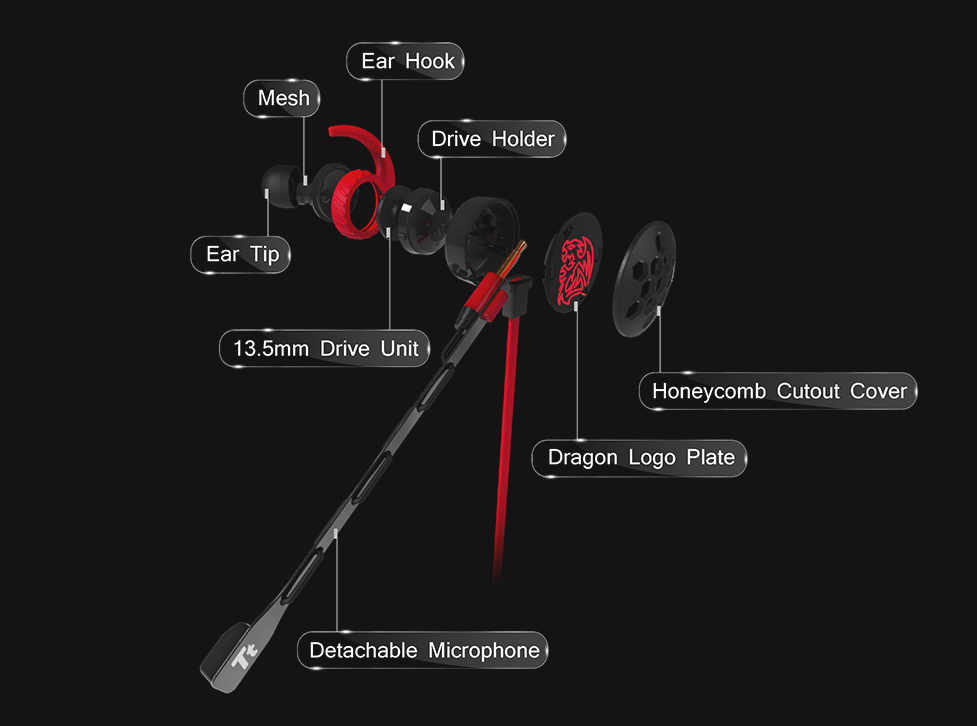 INLINE 3-BUTTON REMOTENever stop playing! Change your music on-the-fly with the 3 button in-line remote (previous, next, play & pause button) with integrated microphone, allowing you to answer your calls and control the music with just the push of a button. ISURUS PRO is the perfect headset when you are on the move or in a gameplay!

More information on HOW TO OPERATE THE INLINE REMOTE:
| | |
| --- | --- |
| TANGLE-FREE FLAT CABLEISURUS PRO consist with tangle-free flat cables, so say goodbye to those frustrating cable tangles and have fun with the great designed for functionality and enjoy your game and music every day! | |
| | |
| --- | --- |
| | SECURE FIT SYSTEMDesigned to nestle in the ear without entering your ear canal, the ISURUS PRO spreads contact equally across the ear for supreme coziness and forms a cap that gives the headphones a full-spectrum of noise reduction! |
| | |
| --- | --- |
| POWERFUL 13.5MM NEODYMIUM DRIVERDeliver unbeatable in-ear audio, with natural high-reliability, crisp trebles and powerful bass - allowing you to hear and retain your daily soundtracks perfect and experience the true gaming atmosphere! Whatever your mood you have for the day, just immerse yourself in the best quality of sound! | |
| | |
| --- | --- |
| | 3 SIZES EAR SLEEVESISURUS PRO comes with 3 sizes of silicone sleeves where you can choose the pair that best fits you naturally. These awesome washable, soft silicone sleeves were designed to provide comfort in your ear canals for long hours of use! |
Key Features
The Earbud Solution For Gamers
World's First In-Ear Detachable Microphone Headset
Unique Earbud Design
Dual Microphones
Inline 3-Button Remote
Tangle-Free Flat Cable
Model
HT-ISF-ANIBBK-19 - Isurus Pro
5 stars

4 stars

3 stars

2 stars

1 star
7 Days Return & Refund
If your product is defective / damaged or if you receive an incorrect / incomplete product, then call our customer service 16492 to log a return request within 7 days of delivery.
This product is not eligible for a refund if the product is "no longer needed". "No longer needed" means that you no longer have a use for the product / you have changed your mind about the purchase / the size of a fashion product does not fit / you do not like the product after opening the package.
Conditions for Returns
The product must be unused, unworn, unwashed and without any flaws. Fashion products can be tried on to see if they fit and will still be considered unworn.
The product must include the original tags, user manual, warranty cards, freebies and accessories.
The product must be returned in the original and undamaged manufacturer packaging / box. If the product was delivered in a second layer of Daraz packaging, it must be returned in the same condition with return shipping label attached. Do not put tape or stickers on the manufacturer box.
If a product is returned to us in an inadequate condition, we reserve the right to send it back to you.
To learn more about how to return your product click here.